All Plumbing Services And Repairs
For any Plumbing, Roofing, Gas and Drainage services. Wurtulla Plumbing provide a fast, one-stop solution. 24/7 Emergency Plumbers. Domestic and Commercial Plumbing Maintenance Specialists.
Request a free quote now
Hot Water Specialists
For all Electric, Gas and Solar Hot Water Unit Replacement and Repairs. Zip/Billi Boiler Servicing and Replacements
Request a Quote
Blocked Drains
Specialised Equipment to clear Blocked Drains fast! CCTV Camera Inspections and Drainage Repairs.
Request a Quote
Sunshine Coast Plumbers And Gas Fitters
Specialising in domestic, commercial and industrial plumbing.
For the best plumbing service on the Sunshine Coast, trust Wurtulla Plumbing & Drainage. Call now for help (07) 5491 6746​. Our plumbing services are available 24 hours a day, 7 days a week.​
Our Primary Plumbing Services
Frequently Asked Questions About Plumbing
Why Has My Water Bill Recently Gone Up So Much?
If your water bill has unexpectedly increased, it may be due to a leak somewhere on your property. You can check if this is the case by turning off all the taps and other appliances that use water, such as the washing machine and dishwasher. Once you have done this you could check your water meter to see the reading. If you then wait about fifteen minutes and check it again, it should not have changed. Remember not to flush a toilet either. If the meter reading has increased, there is a good chance it is due to a leak.
How Do I Find A Water Leak?
Some leaks may be easy to detect, such as a dripping tap or a running toilet. Others may be difficult to find, such as a compromised underground pipe, or a pipe in your walls. You can do a check of all your taps and appliances, followed by looking for damp or mouldy areas in the walls of your home. You can also check outside for areas on the ground that are always wet. If you do not find anything, professional help from a plumber may be the next step.
How Do You Fix Underground Leaks?
Generally, there is no other way to fix a leak underground besides finding it, digging it up and repairing the pipes. If the leak is before your home, you may be eligible to split the cost of repair, and excess water bills with Unity Water.
What Should I Consider A Plumbing Emergency?
A plumbing issue is an emergency when it involves sewerage water, such as overflowing, backflowing or leaking. Other emergency plumbing situations are those that are causing damage to your property, such as major bathroom leaks, or water spurting from the ground. If you have a plumbing leak near electricity, this could also cause an emergency situation.
What Causes Pipes To Leak?
Underground pipes most often leak due to rupture by tree roots. Other pipes can begin to leak due to movement in the ground or physical contact. Another common leak is caused by flexihoses in bathrooms or kitchens bursting through poor material construction.
Can I Do My Own Gas Work?
Only a registered gasfitter is permitted to work on gas lines in Queensland. This includes installation and repair. All gas fitting work must be certified.
Can Any Plumber Install My Gas Appliances?
Again, only a registered gas fitter can install gas appliances. Not all plumbers are gas fitters. If your appliances are installed by a person who is not certified, then it mat compromise your product warranties and insurance claims in the event of damage. It is also just illegal.
How Soon Can You Replace A Hot Water System?
This will depend on the time of day and which type of hot water system you have. However, a replacement will usually take about three or four hours to remove and install. 
What Are The Most Common Plumbing Issues You Solve?
The most common residential plumbing solutions involve blocked drains, leaking taps, and the replacement of hot water systems. Then there are installations for new home and renovations.
Do You Offer Plumbing Services For Property Managers/Body Corporates?
Absolutely. Due to the fact we have a large, experienced, well trained team, we have a great reputation with property managers and as body corporate plumbers on The Sunshine Coast.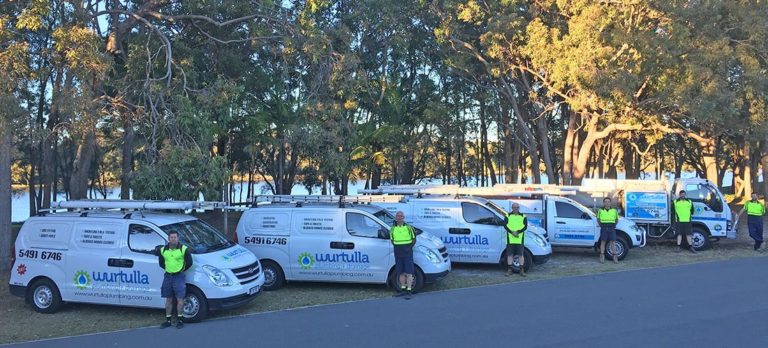 Call us

and we'll be there right away. On Call Emergency Plumber Sunshine Coast To North Lakes
Our plumbing services are available 24 hours a day, 7 days a week. When you need immediate plumbing solutions, give Wurtulla Plumbing & Drainage a call on (07) 5491 6746 / 0405 333 221, or click the button below and we'll get back to you as soon as possible.
Blocked Drain, Leaking Tap, Running Toilet, Leaking Roof, Guttering or Downipes - Wurtulla Plumbing can do it all!